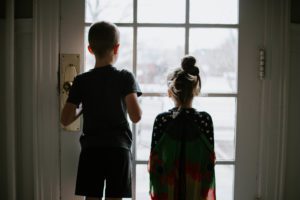 In person school, online school. The basketball game is on, and now it's not. You can have friends over, now you cannot. The virus is scary, but don't be too scared. Wear your mask while out, but not outside. Wear it outside – but, don't go outside.
The world as we know it is very confusing, and it is affecting kids. Suddenly the social, mental, physical, and intellectual needs of your kids hang in the balance, taking away their footing, and replacing it with fear and uncertainty. Now, you as the parent are charged with restoring peace and balance when the world is anything but.
While we understand that this is a daunting task for any parent to take on, we have outlined four simple ways to help restore peace and balance in your home.
1. Eat Together as a Family
Countless studies over the years have cited the importance of eating together as a family. In fact, a recent survey by the Food Industry Association found that 71% of people who have been eating more in-person meals during the pandemic agree that they feel more connected to their family since the pandemic began.
That same study also noted that more than one-third of those surveyed found that they eat better, with 40% saying that the food they eat is more balanced or healthier than the food they eat when alone. Eating together as a family has a higher likelihood to improve the mental and physical state of you and your children. So, give it a try.
2. Learn Together
At-home-learning is something that most parents and children were not fully prepared for when the pandemic hit. With several months under the belt, it is likely less of a shock to the system, although still a challenge.
Bringing learning home is not a bad thing. Think back to those early years when you were your child's only teacher(s). Think about how fun it was to watch your child learn to crawl, walk, talk and grow in knowledge. It was a time when you got to know your child, and he learned to trust you. Even though you were scared and uncertain as a new parent, you learned and grew together. The same rules apply here. Take this time to learn and grow together. Before you know it, it will be over. And just like those toddler years you look back on with fondness, the same will be with these days.
3. Play Together
With sports and school fitness put on hold (minus online PE), there is a high likelihood that your child is missing out on much needed physical exercise. The same may even ring true for you.
Take this time to go on walks, shoot some hoops, ride a bike or even have a family dance party in your living room. Doing so will accomplish the need to keep your body moving, as well as the joy that comes from spending time together improving your health and happiness.
4. Talk with Each Other
Social distancing from friends does not mean that you can't be social. Family relationships are some of the most important social relationships you will ever have because you will always be family. Take this time to talk with each other about things that are going on. Talk about your feelings. Share with your kids stories of when you were young. Get to know each other!